SALMA HAYEK'S 70's INSPIRED GLOSSY BLOW-DRY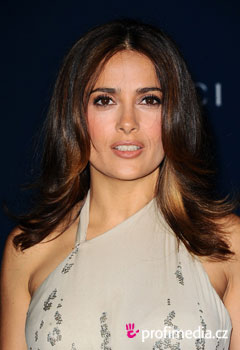 By Zuzana Ritchie, Beauty Writer and Make-Up Artist
It doesn't get any glossier than Salma's hair and we love the 70's inspired flicks and volume. See how you can achieve it too! Ombre dip-dye is optional.
1. Always start with squeaky clean hair to achieve maximum glossiness and volume. Wash the hair with the correct shampoo for your hair type.
2. Gently towel-dry your hair to take any excess moisture out.
3. Apply a serum or cream for frizzy/curly hair or a volume mousse/thickening spravy for fine hair to achieve a glossy result with added volume.
4. Divide your hair into a minimum of four manageable sections. Use a large round hairbrush that will help you style each separate section properly.
5. Blow-dry your hair with the nozzle facing down the hair shaft to eliminate frizz. Hold the round hairbrush vertically and keep twisting it away from your face to encourage the front of the hair to start turning in the style of 70's flicks around your face.
6. For extra volume, curl your dry hair all the way around the brush and blast the hair with cool air before removing the brush.
7. To boost the shine, add a little serum that you rub into your palms first, or a smoothing cream.
Top tip: If the outwards flicks around your face and the bottom need more encouragement, you can use your straightener and gently pull and flick the bottom hair strands in the desired direction.
Comments (0)
Be the first to add comment to this hairstyle!